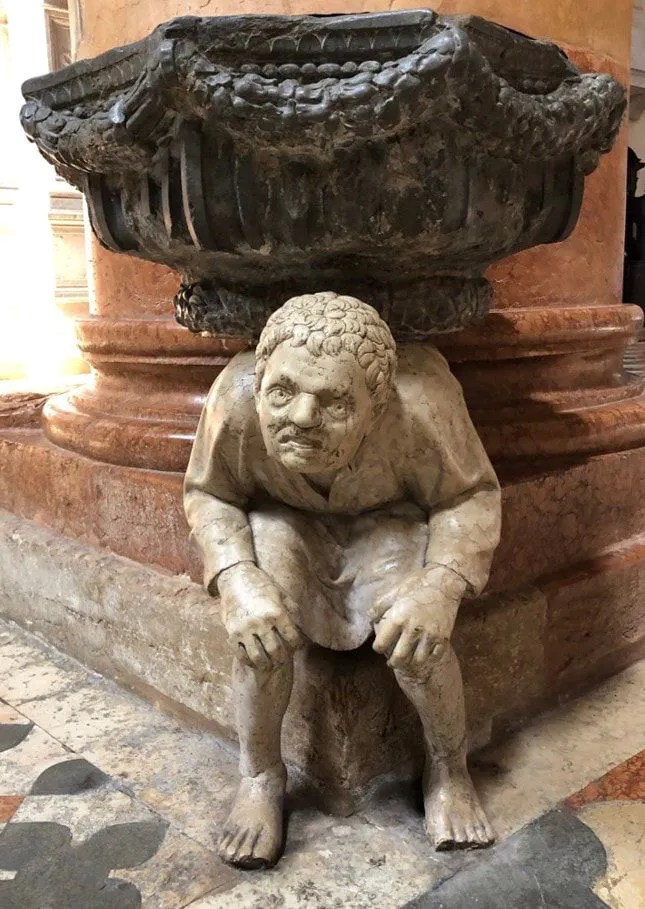 Launa and I have a company conference in Monaco this month and decided to come a bit early and enjoy some time in our beloved Italy. I lived in Italy for two years when I was younger and love returning whenever possible. Our version of tourism is a bit different than most. Rather than racing from one big "gotta see it" tourist attraction to the next, Launa and I prefer to take our time and enjoy the local culture in a way most hurried tourists miss. This form of travel can be deeply rewarding. As we do so we focus on the little things that make a country and its people special. Launa is our family photo expert and she has taught me that rather than shoot a bunch or wide-angle shots, she focuses on the little things that stand out as being special and unique.
 
When we recently visited a world-famous cathedral, I watched as she closed in and took a picture of a very small, inconspicuous stature of an old man holding a small baptismal font on his back. In the midst of the imposing art that filled this building, Launa was interested in who this little man might be. We learned that this little statue represented the thousands of unknown workers who spent years doing the difficult manual labor on this magnificent structure. The great names of the day were proudly displayed throughout the building, but it's very structure rested on the backs of these unknown laborers.
 
As I pondered the message of this little statue I remembered an industry I follow for investment purposes. Like many others today, this industry is beginning to struggle to attract and retain good talent. On its face, it is strong and powerful with a huge public presence, but underneath, the human resource shortage is threatening its future.
 
There are many others in our economy beginning to suffer a similar shortage of qualified workers. Some businesses focus extensive advertising resources on maintaining a strong public image, while overlooking the critical need of developing and retaining a strong employee pool; those countless unnamed individuals upon whose backs the future of the business rests.
 
I suggest that people who are considering their investments keep a careful eye on the pipeline an industry or a company has for future laborers. The same applies to entire nations who are facing severe labor shortages in the coming years. Having a great product is not enough if you have no qualified workers to produce it.
 
Capitalism works, but wise capitalists know how very important their employees are and upon whose backs their future rests. If you are invested in a company that does not dedicate significant resources to developing and retaining a qualified and satisfied employee pool, the coming years might put that investment in jeopardy. I will now add Launa's new photo to my office wall as a reminder that analyzing how a company attracts, retains and cares for its employees, is critical to its future success.